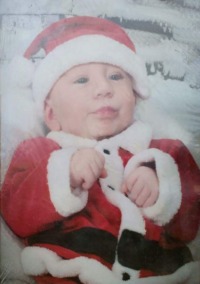 Name: Cameron Hoopingarner.
Died: February 21, 2017.
Age at death: 9.
Cause of death: Neglect.
Location: Vigo County, Indiana, USA.
Disability: Cerebral palsy, blindness.
Details:
Cameron was starved to death by his legal guardians. They fed him very little, mostly baby food, and refused to take him to a doctor. When he died, he weighed less than 15 pounds.
Perpetrator: Chad Kraemer (Housemate), Hubert Kraemer (Guardian), Robin Kraemer (Guardian), and Sarah Travoli (Housemate). All charged with neglect of a dependent resulting in death.
Source:
Blind boy, 9, with cerebral palsy dies from starvation weighing just 15 pounds
'Worst autopsy of my career'
Suspects facing additional charges in 9-year-old's death after testing positive for drugs
Suspects arrested in connection with 9-year-old's malnutrition death test positive for drugs
4 charged in death of 9-year-old boy with cerebral palsy
Drug charges added in child-death case
Four arrested in starvation death of 9-year-old Indiana boy
Four suspects arrested for death of 9-year-old face additional charges after testing positive for drugs
Following tragic death family friend details relationship between guardians and 9-year-old boy
4 arrested in death of 9-year-old weighing under 15 pounds
4 arrested after 15-pound 9-year-old boy with cerebral palsy dies
Boy In Starvation Case Pictured As Doctor Reveals 9-Year-Old's Alleged Nightmare Of Neglect
4 charged after 15-pound boy, 9, dies
Child-death suspects could face 40 years in prison if convicted
Little boy starved to death looked like an Auschwitz victim when he was found
Child Death Suspects in Court
Blind boy with cerebral palsy starved to death
4 arrested for starving Vigo County boy to death
4 arrested in connection to death of malnourished child
4 arrested in death of 9-year-old Indiana boy with cerebral palsy
4 arrested after death of 9-year-old Indiana boy weighing only 15 pounds
Little food, no medical care for disabled boy who died of starvation
Four arrested in starvation death of 9-year-old boy weighing 15lbs
Court docs: 9-year-old Vigo Co. boy weighed 14.8 pounds when he died, lived on baby food
Four Arrested After 9-Year-Old Weighing Just 15 Lbs. Dies
Four arrested in starvation death of 9-year-old boy
4 Arrested in Connection To Malnourished Boy's Death
Four Arrested In Connection With Death Of 9 Year Old Child
Indiana family charged after 9-year-old boy with cerebral palsy starves to death
4 arrested after 9-year-old dies weighing 15 lbs. in Vigo County
New Details Released In Death Of 9-Year-Old
Child Starvation Death Suspects Face More Charges
Autopsy shows Vigo County 9-year-old who starved to death had methamphetamine in his system
Coroner: Vigo Co. 9-Year-Old Who Died of Starvation Had Meth in System
Four face additional charges in neglect case after autopsy shows 9-year-old boy had meth in system
Vigo Co. couple accused of starving 5-year-old daughter to death
4 Charged In Disabled Boy's Death Face New Charges
Additional Charges Filed In Death Of 9-Year-Old Vigo Co. Boy
4 charged in starvation death of Indiana boy who had meth in his system
Four Accused in Child's Death Now Facing Additional Charges
Boy, 9, Who Weighed Less Than 15 Pounds When He Died of Starvation Had Meth in System: Autopsy
4 charged after 15-pound boy, 9, died with meth in system
Autopsy finds meth in system of boy, 9, who weighed 15 pounds
Doctor Said Abuse Case Is 'Most Disturbing' He's Ever Seen—The Look on Boy's Face in Photo Says It All
Funeral donations for Indiana child starved to death will help other kids