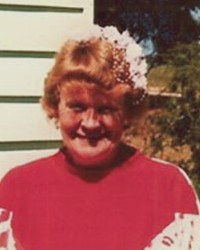 Name: Joan Vollmer.
Died: January 30, 1993.
Age at death: 49.
Cause of death: Abuse.
Location: Antwerp, Victoria, Australia.
Disability: Schizophrenia, depression/anxiety.
Details:
When Joan had an episode of psychosis, her husband decided that she was possessed. He and three others tied Joan to her bed and then to a chair, refusing her food and water and beating her to try to exorcise the demons. Joan died after four days of torture.
Perpetrator: Ralph Vollmer (Husband), suspended sentence; Leanne Reichenbach, sentenced to 4 months in prison; David Klinger, sentenced to 3 months in prison; Matthew Nuske, suspended sentence.
Source:
The people who own it don't want to live there House abandoned after bizarre exorcism
The Exorcism of Joan Vollmer
A Terrible Exorcism
AUSTRALIAN WOMAN DIES AFTER 4-DAY EXORCISM
Exorcism Goes Wrong in Victoria