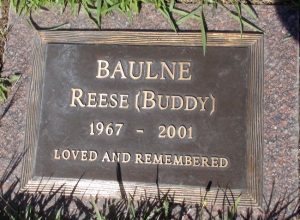 Name: Reese Darren Baulne (sometimes spelled "Reece").
Died: December 30, 2001.
Age at death: 34.
Cause of death: Murder-suicide.
Location: Kelowna, British Columbia, Canada.
Disability: Intellectual disability.
Details:
Reese's parents filled their motor home with carbon monoxide, killing themselves and Reese in a murder-suicide.
Perpetrator: Maurice Baulne (Father) and Belva Baulne (Mother).
Source:
History of euthanasia in Canada
Tracy Latimer is dead because her father is a murderer
Couple's suicide note reveals struggle to care for son
BC COUPLE MURDER DISABLED SON AND COMMIT SUICIDE
Reese Darren Baulne (1967-2001) – Find A Grave