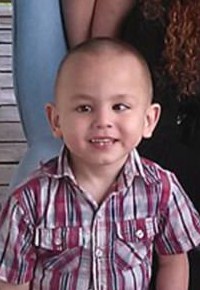 Name: Jordan Rodriguez.
Died: December 19, 2017 (Body found; last seen July 17, 2017; likely died September 22, 2017).
Age at death: 5.
Cause of death: Fatal abuse.
Location: Cleveland, Ohio, USA.
Disability: Developmentally disabled, nonverbal.
Details:
Although he obviously needed a hospital, Jordan's mother did not take him to a doctor. After he died, most likely from abuse, Jordan's mother and her boyfriend buried him in their backyard.
Perpetrator: Larissa Rodriguez (Mother), charged with murder; Christopher Rodriguez (Mother's boyfriend), charged with murder.
Source:
Mother arrested after body of five-year-old discovered
Cause of death is sought for remains found buried in Cleveland yard
Cleveland police: Charges for murder, felonious assault coming against Larissa Rodriguez
Mom charged with murder after leading police to son's abused body
Mother charged in death of 5-year-old boy found buried in backyard of Cleveland home
Police: Mother led investigators to child's remains buried in backyard
Cleveland mother charged in young child's murder
Larissa Rodriguez Charged With Son's Death After Remains Found In Backyard
Why? Larissa Rodriguez Cleveland mother arrested after burying disabled son in backyard
Ohio woman charged in son's death after buried remains found
Resources available for kids with special needs, in light of what happened to Jordan Rodriguez
$1M bond set for Cleveland mother charged with murder in son's death
Body found in bags in backyard identified as disabled boy
Body found in bags in backyard identified as disabled boy
Woman pleads not guilty in death of son, 5, buried in yard
Boyfriend of mother-of-9 charged with murder after her disabled 5-year-old son was found buried in garden
Man charged in death of 5-year-old in Cleveland
Cleveland police release body cam video of home belonging to mother charged in death of 5-year-old son
Cleveland mom accused of killing, burying 5-year-old in backyard gives birth to 10th child