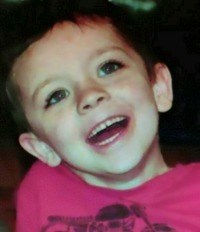 Name: Tyler Joseph "TJ" Caudill.
Died: Late August 2016; body found November 13, 2016.
Age at death: 6.
Cause of death: Abuse.
Location: Portsmouth, Ohio, USA.
Disability: Autism.
Details:
TJ was abused and starved by his mother and her boyfriend; then he went missing. His body has been found, and his mother and her boyfriend charged with murder, but his cause of death remains unknown.
Perpetrator: Margariat L. White (Mother) and Douglas Lee Hunt (Mother's boyfriend), charged with aggravated murder, murder, three counts of endangering children, tampering with evidence, and gross abuse of a corpse.
Source:
UPDATE: Mother, Boyfriend charged in death of 6-year-old boy
Mother, Boyfriend Arrested in 6 Year Old Boy's Death
Portsmouth Police find body amidst search for missing 6-year-old
Scioto grand jury indicts couple in death of autistic boy