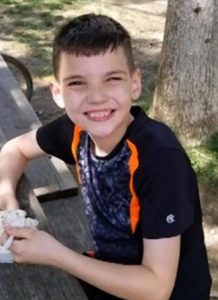 Name: Dylan Martin Davis.
Died: November 17, 2017.
Age at death: 11.
Cause of death: Fatal abuse.
Location: Georgetown, Ohio, USA.
Disability: Autism.
Details:
When Dylan had a meltdown, his step-grandfather–a very large man–sat on him to restrain him and suffocated him to death.
Perpetrator: Donald Martin Jr. (Step-grandfather), pleaded guilty to reckless homicide.
Source:
Police arrest and charge 400-pound man in death of 11-year-old autistic step-grandson
28-stone man 'killed his 'autistic' step grandson, 11, by SITTING ON HIM'
400-pound man pleads guilty in step-grandson's pinning death
Ohio boy crushed by 28-stone grandad
400-pound Ohio man pleads guilty to accidentally smothering step-grandson
400-pound man admits accidentally crushing step-grandson, 11, to death
400 lb grandpa pleads guilty to suffocating 11 year old autistic boy