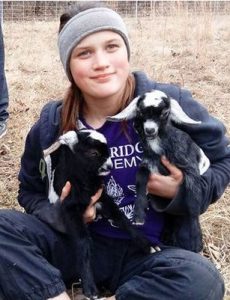 Name: Savannah Leckie.
Died: August 4, 2017.
Age at death: 16.
Cause of death: Murder.
Location: Ozark County, Missouri, USA.
Disability: Autism, depression, ADHD.
Details:
Savannah was murdered by her birth mother. Exactly how she died is unknown because her killer burned her body.
She was a junior firefighter who liked to do volunteer work and care for farm animals.
Perpetrator: Rebecca Ruud (Birth mother), charged with first-degree murder, felony abuse of a child, tampering with physical evidence and abandonment of a corpse; Robert Peat Jr. (Birth mother's boyfriend), charged with first-degree murder and child abuse.
Source:
Savannah Leckie murder case broadens out of state
Teenage murder victim remembered
Husband, wife indicted in death of Ozark County teenager
Amid allegations of torture, Ozarks boyfriend and mother charged with murder of teen girl
Southern Missouri couple indicted in death of woman's teen daughter who had autism
Adoptive mom, boyfriend at Leckie murder arraignment
Adoptive mother of Minnesota girl killed in Missouri asks, 'What if?'
Mother-daughter murder case gets new judge in Taney County
Judge Sets Trial Dates For Couple Indicted For Savannah Leckie's Death
Savannah Leckie murder: Jury trials set for Rebecca Ruud and Robert Peat Jr.