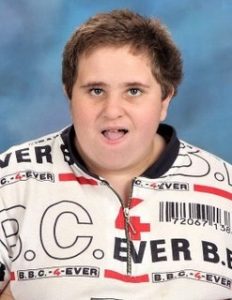 Name: William Gratsie Kidd II.
Died: January 27, 2018.
Age at death: 13.
Cause of death: Neglect (?).
Location: Elkin, North Carolina, USA.
Disability: Autism.
Details:
William loved horses and was good at communicating with them. He also enjoyed music, his four-wheeler, and going to church and school. His favorite food was Kentucky Fried Chicken. He liked shoes and flyswatters, and was mostly non-verbal except for a few signs. He used to ride his tricycle through the school hallways.
William died in a house fire. Detectives determined that the house was "her actions during the fire directly caused the death of her son", but did not specify further. The house was a cluttered fire hazard, a "hoarding situation" that endangered William's life.
Perpetrator: Maria Deneane Kidd (Mother), charged with involuntary manslaughter, child abuse, and insurance fraud.
Source:
Obituary for William Kidd, II
Mom Tried Saving Son in Deadly Surry Co. House Fire: Officials
Mom Charged in Elkin House Fire That Killed Son With Autism
NC woman faces charges in fire death of son with autism
Mount Airy News, Mount Airy NC
Mom charged after 13-year-old son dies in house fire in Surry County
Surry County mother charged in autistic son's death in house fire
Mother remembers boy killed in Elkin fire
Elkin faculty, students remember student lost in weekend house fire