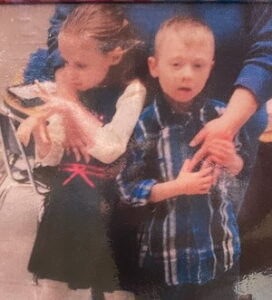 Name: Chelsea Hill.
Name: Connor Hill.
Died: August 5, 2021.
Age at death: 18.
Cause of death: Starvation.
Location: Silverdale, Washington, USA.
Disability: Autism.
Details:
Twin siblings Chelsea and Connor's mother presented herself at an emergency room and said she was suicidal, and that there were two people dead at her home. When investigators checked the home, they found Chelsea and Connor dead, and police arrested their mother, who told them that she had "lost track of time" and forgotten to feed Chelsea and Connor.
Case Status:
Sherrie Lynn Hill (Mother), charged with second-degree murder.
Source:
Autism Memorial: Chelsea and Connor Hill.
Kitsap County mom accused of murdering, possibly starving her twin children
Silverdale woman charged with murder after her autistic twins found dead in her home
Suicidal Washington mother charged with murder of her autistic twins