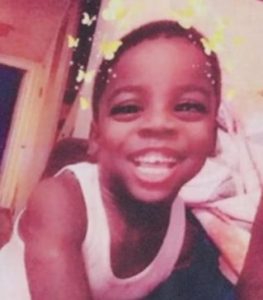 Name: Jakie Toole.
Died: September 11, 2019 (Body found), last seen April 2019.
Age at death: 5.
Cause of death: Blunt trauma.
Location: Meridian, Mississippi, USA.
Disability: Unspecified special needs; mobility and communication impairment.
Details:
Jakie's mother left him with a family friend to serve as a caregiver. His body was found in a garbage bag in her basement, and an autopsy showed he had died of trauma from a beating. The caregiver had led police to the body and told them she had burned him in a bathtub and beaten him for crying.
Case status:
Celeste Louise Smith (Caregiver), convicted of murder, sentenced to life.
Source:
Missing child's caretaker charged with capital murder after body found in basement of Meridian home
Capital murder charge filed in Meridian basement body discovery case
Meridian woman charged with capital murder following discovery of a child's remains
Body of special needs child found in garbage bag was beaten and burned, autopsy confirms
Autopsy: Body of special needs child found in garbage bag was beaten and burned
Body of child found in basement: Autopsy shows beating; chief says he was also burned
Mother of special needs child who was killed, found in bag, faces neglect charges
Mother charged with child neglect in case of missing special needs child