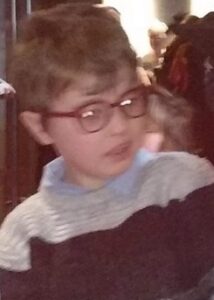 Name: Dylan Freeman.
Died: August 16, 2020.
Age at death: 10.
Cause of death: Suffocation.
Location: Acton, west London, England, UK.
Disability: Cohen syndrome, autism.
Details:
Dylan's mother admitted to drugging him, then suffocating him.
Dylan's father says, "Dylan was a beautiful, bright, inquisitive and artistic child who loved to travel, visit art galleries and swim." He often took his son on vacation overseas.
Case status:
Olga Freeman (Mother), pleaded guilty to manslaughter on grounds of diminished responsibility; detained indefinitely at a psychiatric hospital.
Source:
UK woman who killed disabled son detained in hospital indefinitely
Mum who suffocated disabled son during lockdown given hospital order
Wife of celeb photographer who suffocated disabled son, 10, given hospital order
Mother is given indefinite hospital order after she suffocated son
Mum who suffocated disabled son, 10, in lockdown given indefinite hospital order
Lockdown Contributed to Death of Disabled Boy: UK Judge
Mother admits killing disabled son, 10, while struggling to care for him in lockdown
Celebrity photographer's autistic son was 'suffocated with a sponge'
Celebrity photographer's autistic son, 10, suffocated with sponge as mother 'struggled' to take care of him
Celeb photographer's ex gave autistic son, 10, sleeping drug before 'putting sponge in his mouth and tying it'
Woman in her 40s is arrested for murder after boy, 10, was found dead at house in west London
Celebrity photographer's ex-wife charged with murder of 10yo son in London
Mother charged with murdering her autistic son, 10, is pictured arriving at court
Celeb snapper 'can't comprehend' loss of son, 10, as mum charged with murder
Mum charged with murdering son, 10, she shared with celebrity photographer