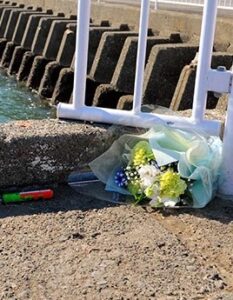 Name: Teruko Fujiwara.
Died: November 2, 2022.
Age at death: 79.
Cause of death: Drowning.
Location: Oiso, Kanagawa Prefecture, Japan.
Disability: Unspecified; wheelchair user.
Details:
Ms. Fujiwara's husband had been her caregiver for 40 years since she was injured and started using a wheelchair. The two were planning to enter an assisted-living facility, and Ms. Fujiwara was looking forward to it. But her husband did not want to accept help; he took her to the pier and pushed her out of her wheelchair and into the ocean, where she drowned. Police say he admitted to the murder, saying he was "worn out" from looking after her.
Ms. Fujiwara leaves behind two grown sons.
Case Status:
Hiroshi Fujiwara (Husband), convicted of murder, sentenced to 3 years.
Sources:
Obsession to care for disabled wife by himself led man to kill her
Husband, 82, gets 3 years in drowning death of paralyzed wife
81-year-old Japanese man arrested for murder after pushing wife's wheelchair into sea
81-yr-old man in Japan arrested for allegedly killing wife he took care of for 40 yrs
Man accused of pushing wife in wheelchair into sea, killing her
Man, 81, pushes wheelchair-bound wife, 79, into the sea as he was 'too tired of taking care of her'