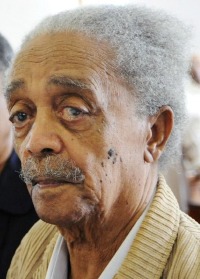 Name: Peter Abrahams.
Died: January 18, 2017.
Age at death: 97.
Cause of death: Murder.
Location: Red Hills, St. Andrew, Jamaica.
Disability: Unspecified; wheelchair user.
Details:
After Peter objected to the way his aide's husband had used his credit card, the man became angry, threw him out of his wheelchair, and bashed his head against the floor until he died.
Peter was a novelist, journalist, and political commentator who was born in South Africa, lived in the UK, and finally moved to Jamaica.
Perpetrator: Norman Tomlinson (Husband of Peter's aide; lover?), charged with murder.
Source:
Murder accused alleges gay affair with Peter Abrahams — sources
Investigators Give Details On Murder Of Peter Abrahams
Suspect reportedly admits to killing Peter Abrahams
Murder accused alleges gay affair with Peter Abrahams — sources
Sleep on Sir Abrahams
Peter Abrahams