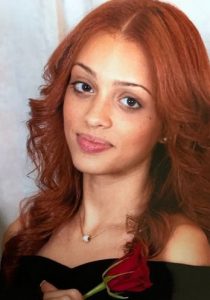 Name: Kayla Estevez.
Died: March 24, 2021.
Age at death: 26.
Cause of death: Strangled.
Location: New York City, New York, USA.
Disability: Bipolar disorder.
Details:
Kayla died from strangulation while staying in a hotel with her boyfriend. Police charged her boyfriend with second-degree murder, noting that her body was covered in bruises. Her family says that Kayla had been in a long-term abusive relationship with her boyfriend, who took advantage of her using her bipolar disorder.
Kayla took ballet lessons and enjoyed drawing and expressing herself in poetry.
Case Status:
Ernest Wright (Boyfriend), charged with second-degree murder and drug possession.
Source:
'Defies all logic and reason': Homeless man accused of strangling girlfriend in Times Square hotel claimed she 'did this to herself,' prosecutors say
'My best friend': Brother of woman strangled by homeless boyfriend in Times Square hotel saw the tragedy coming