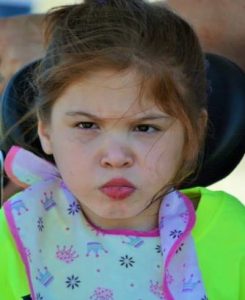 Name: Cristina Pangalangan.
Died: August 5, 2019.
Age at death: 13.
Cause of death: Murder.
Location: Colleton County, South Carolina, USA.
Disability: Unspecified; wheelchair user.
Details:
On a hot August day, Cristina's mother deliberately left her in the car for five hours. According to investigators, she checked on her twice, once at noon, before continuing to leave her in the car, and then again at 3pm where she claimed to discover the car was locked and her and her boyfriend had to leave to get a spare set of keys. When first responders who received a call about a child in a locked car arrived on the scene, they found that she had died.
Her eighth-grade teachers remember her as a "very motivated student" who smiled at everyone.
Perpetrator: Rita Pangalangan (Mother), charged with murder; Larry King (mother's boyfriend), charged with murder.
Source:
Lowcountry mother charged with murder in teen's hot car death resigns from teaching job
13-year-old special needs girl found dead in car in SC; 2 people arrested, authorities say
Report: Two charged with murder after deliberately leaving disabled 13-year-old in car for several hours
Man, woman charged with murder in Colleton County after girl's death in hot car
Teacher, boyfriend charged in 13-year-old's death
Teacher mum 'left disabled daughter, 13, to die in roasting hot car for 5 hours'
Colleton girl's accused killers had multiple brushes with police amid rocky relationship
Authorities identify 13-year-old girl who died after being left in car
Mom, boyfriend left disabled girl in vehicle 5 hours before death, Colleton deputies say
Teacher of the Year 'left her disabled teenage daughter to die in roasting car'
Cristina Pangalangan hot car death: Rita Pangalangan & Larry King charged w/ murder
Mother, Boyfriend Charged With Murder After 13-Year-Old Girl With Special Needs Dies in Hot Car
Woman leaves kids in hot car week after sister died in their mom's hot car, SC police say