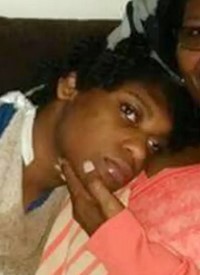 Name: Patrice Johnson.
Died: November 18, 2022.
Age at death: 26.
Cause of death: Stabbed.
Location: Springfield Gardens, Queens, New York City, New York, USA.
Disability: Cerebral palsy.
Details:
When Patrice's aide arrived at her house, they found her dead, along with her aunt and stepmother. Patrice's nephew was arrested on suspicion of having stabbed all three women to death after an argument.
Police say that Patrice's stepmother, 65-year-old Hyacinth Brown-Johnson, died trying to protect her. Also killed was Latoya Gordon, 47, Hycainth's daughter.
Case Status:
Jabari Burrell (Nephew), charged with three counts of first-degree and second-degree murder, grand larceny, and criminal possession of a weapon.
Sources:
Brooklyn Man Charged In Triple Homicide
Suspect arrested in fatal stabbings of grandmother, 2 aunts: sources
Queens killer fatally stabs three relatives in Springfield Gardens home; cops seek fugitive family member
Queens triple murder: Mom, daughter and disabled stepdaughter stabbed to death, hunt on for family member
Suspect in Queens triple homicide reveals grisly details on slays: sources
UPDATE: Relative arrested in Friday triple killing
Family member of Queens murder victims charged in their deaths: Police
Queens man wanted for fatally stabbing family members arrested in Virginia covered in blood
Gran shielded stepdaughter as nephew allegedly stabbed pair to death
Relative arrested in Friday triple killing