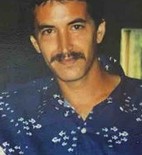 Name: Mark Pagan.
Died: July 24, 2021.
Age at death: Adult.
Cause of death: Head trauma.
Location: Nashville, Georgia, USA.
Disability: Schizophrenia.
Details:
Mark lived with his sister, who cared for him. Mark and his sister were both allegedly attacked and battered by his nephew; Mark died from massive head injuries, and his sister Kris was hospitalized in serious condition.
Case Status:
Jared Dean Zisman (Nephew), charged with felony murder, felony aggravated battery-family violence, and two counts of felony aggravated assault family violence.
Source:
'We were in shock': Nashville homicide, assault victims' family speaks out
Help for Kris Pagan & Her Younger Son, organized by Patti Pietroniro
Man charged in Nashville weekend killing, assaults