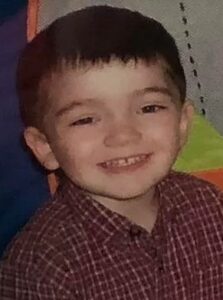 Name: Thomas Valva.
Died: January 17, 2020.
Age at death: 8.
Cause of death: Abuse.
Location: Long Island, New York, USA.
Disability: Autism.
Details:
Thomas lived with his father and his father's fiancee. He and his brother were often starved and made to sleep in the unheated garage. One freezing night, Thomas died from hypothermia.
He was a second-grader who loved playing outside.
Perpetrator: Michael Valva (Father) and Angelina Pollana (Father's girlfriend), charged with second-degree murder.
Source:
NYPD officer and fiancée charged with murder of cop's 8-year-old autistic son who froze to death in garage
NYPD Dad Charged In Frigid-Garage Death Of Boy, 8: Cops
NYPD cop Michael Valva abused son Thomas Valva for years before his death, mom claims
'I'm Not Surprised,' Nanny Says Of 8-Year-Old's Horrific Death
Child services ignored complaints about cop before his son died
NYPD officer Michael Valva, fiancée charged with murder in death of cop's 8-year-old son
Father, His Fiancée Face Murder Charges In Death Of 8-Year-Old Long Island Boy
NYPD Cop & Fiancee Accused of Killing 8-Year-Old Boy