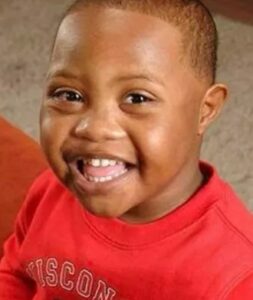 Name: Jamal Anderson Jr.
Died: February 8, 2021.
Age at death: 5.
Cause of death: Gunshot.
Location: Milwaukee, Wisconsin, USA.
Disability: Down syndrome.
Details:
Jamal died from a gunshot wound to the stomach. Intially, his father claimed that Jamal had been shot by home invaders; but when police found the murder weapon in a backpack outside the house, it turned out to be his father's gun.
Jamal loved music and dancing and could often be found talking to relatives on his iPhone.
Case Status:
Jamal Anderson Sr. (Father), pleaded guilty to child neglect, sentenced to 12 years.
Sources:
Dad charged after son, 5, with Down syndrome fatally shot in stomach
Jamal Anderson, Jr.
12 years in prison for Milwaukee father in fatal shooting of son
My son life was taken by gun violence at 5yrs old, organized by Jaquita Harbour