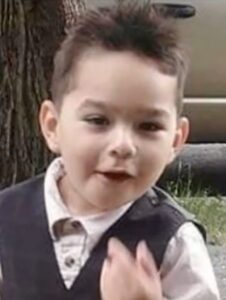 Name: Peter Cuacuas.
Died: February 10, 2021.
Age at death: 7.
Cause of death: Starvation.
Location: Newburgh, New York, USA.
Disability: Autism.
Details:
Peter lived with his mother, but saw his father every Saturday. He stopped attending his online classes in January; in February, he was brought to the hospital, dead on arrival from starvation and weighing only 37 pounds. He died because his mother kept him locked into his room and denied him food.
Case Status:
Letitia Bravo (Mother), pleaded guilty to manslaughter, sentenced to 15 years.
Arturo Cuacuas (Father), pleaded guilty to criminally negligent homicide, sentenced to one and one-third to four years in prison.
Sources:
Caregiver pleads guilty in starvation death of 7-year-old boy
Memorial marks 1 year since starvation death of Newburgh boy
Dad Admits Role In Child's Death, Will Testify Against Girlfriend
Autism Memorial: Peter Cuacuas
'He weighed 37 pounds, and he was 7 years old.' Questions linger following Newburgh boy's death
Inquiry To Be Launched Into Newburgh Schools Following Starvation Death Of 7-Year-Old Peter Cuacuas
Letitia Bravo Facing Murder Charges After 7-Year-Old Peter Cuacuas Dies Of Starvation