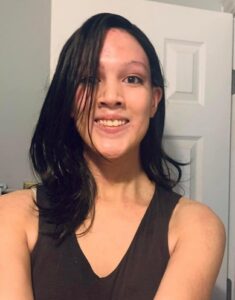 Name: Kathryn "Katie" Newhouse.
Died: March 19, 2022.
Age at death: 19.
Cause of death: Shooting.
Location: Canton, Georgia, USA.
Disability: Autism, mental illness.
Details:
Katie's father shot her, and then killed himself. When she was sixteen, her father had been arrested and charged for holding her down on her bed by her throat.
Kathryn's friends remember her as a kind young woman who was always smiling, even when life became difficult.
Case Status:
Howard Newhouse (Father), deceased.
Sources:
Candlelight Vigil April 4 for Kathryn Newhouse, Trans Teen Murdered by Her Father in Georgia
Autistic Asian-American Teen Trans Woman Kathryn Newhouse Murdered by Her Father in Georgia
Son reacts after Cherokee County dad kills his daughter before shooting himself