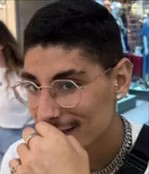 Name: Omri Blum.
Died: July 14, 2023.
Age at death: 23.
Cause of death: Shooting, stabbing.
Location: Modi'in-Maccabim-Re'ut, Israel.
Disability: Autism, fetal alcohol syndrome.
Details:
Omri, who lived at a hostel for disabled people, had left the hostel with some friends; but when their car broke down, police brought Omri back to his adoptive parents, who were still his legal guardians. Initially reluctant to take Omri in, they eventually agreed, but that night, Omri and his father went out to the nearby woods, and there Omri's father allegedly shot him nine times and stabbed him in the heart, killing him.
Case Status:
Shai Blum (Adoptive father), charged with murder.
Sources:
Man indicted for murder of autistic adopted son
Man indicted for shooting adopted son nine times, stabbing twice
Omri's Murder by his Adoptive Father Shakes Hearts
9 shots and a knife in the chest: indictment filed against Shai Blum – for murdering his adopted son
Autism Memorial: Omri Blum