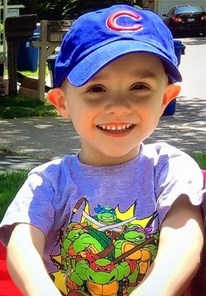 Name: Andrew "AJ" Freund Jr.
Died: April 24, 2019.
Age at death: 5.
Cause of death: Head injury.
Location: Woodstock, Illinois, USA.
Disability: Parents claimed he had oppositional defiant disorder to justify abuse. Whether AJ had a disability is unknown.
Details:
AJ spent some time in a foster home before being returned to his parents. His foster parents and one of his grandmothers released a statement that said, "This smart little boy loved having books read to him, doing puzzles, his Thomas the Train, playing with his fire trucks, bulldozers, cement mixer and Ninja Turtles. He was very curious and always wanted to learn about everything."
AJ was regularly abused by his parents. He died of head injuries after having been forced to take a cold shower and beaten because he had lied about having dirty underwear.
Case status:
Joann Cunningham (Mother), pleaded guilty to first-degree murder, sentenced to 35 years with no parole.
Andrew Freund Sr. (Father), pleaded guilty to aggravated battery to a child, involuntary manslaughter, and concealing a homicidal death; sentenced to 30 years.
Source:
AJ Freund's mother sentenced to 35 years in his beating, cold shower murder
A.J. Freund's Mom Allegedly Had Video of Beaten Kid on Her Phone, Which Helped Solve Case: Docs
Warrant: AJ's father says his mother killed the boy
Newly released documents reveal graphic details about AJ Freund case
Video of beaten 5-year-old AJ Freund on mom's phone helped crack case, search was made for 'child cpr,' authorities say
Andrew 'AJ' Freund's foster family releases statement: 'AJ was loved by us'
Photos of AJ Freund's Crystal Lake home reveal filthy living conditions
Cell phone video led to father's confession in the killing of 5-year-old AJ Freund, police say
Grand jury indicts parents of slain Crystal Lake 5-year-old AJ Freund; court hearing scheduled for Friday morning