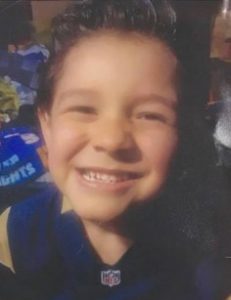 Name: Duke Flores.
Died: April 14th, 2019.
Age at death: 6.
Cause of death: Murder, body not found.
Location: Apple Valley, California, USA.
Disability: Autism.
Details:
When Duke's mother reported him missing, the six-year-old had already been missing for two weeks. Soon thereafter, she was arrested for child cruelty; a few days later, she and Duke's aunt were charged with murder. In her confession, Jackee said that they strangled him with an electrical cord and buried his body in their backyard. After the family dogs kept trying to dig up his body, the two women dug him up and put him in a dumpster. His body has still not been found.
Perpetrator: Jackee Raquel Contreras (Mother), charged with murder; Jennifer Rachel Contreras (Aunt),charged with murder.
Source:
Community Mourns 6-Year-Old Boy Police Believe Was Murdered
Apple Valley: Mother, aunt arrested for murder of missing 6-year-old boy, authorities say
Apple Valley Mother, Twin Sister Booked on Suspicion of Murder as Search for Missing Boy Continues
Murder charges filed against mother of missing 6-year-old Duke Flores of Apple Valley
Detectives arrest Jakee Raquel Contreras (mother) and Jennifer Rachel Contreras (aunt) for the…
Apple Valley: Mother, aunt arrested for murder of missing 6-year-old boy Duke Flores
Homicide Detectives Search Victorville Landfill for Body of Missing Boy; Mom, Aunt Charged With Murder
Duke Flores case: Mother, aunt charged in Apple Valley boy's murder as detectives search landfill
Mother, aunt plead not guilty in murder of missing 6-year-old Apple Valley boy Duke Flores
6-year-old Duke Flores was tied, smothered, buried, dug up, then dumped by mother and aunt