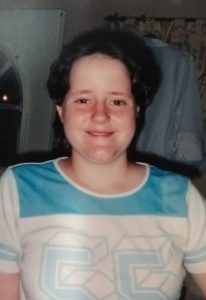 Name: Carry-Ann Brown.
Died: August 17, 2003.
Age at death: 14.
Cause of death: Murder.
Location: Cumbria, England, UK.
Disability: Developmental disability, epilepsy.
Details:
Carry-Anne's abusive father hit her brothers and mother, but never her; instead, she was sexually abused. When she became pregnant with his baby, a judge ordered an abortion and a DNA test.
Carry-Anne's father lured her away from her foster home, put her in the car, drugged her, and tried to kill them both in a deliberate car crash. She died of head injuries five days later; he survived.
Perpetrator: Sean Brown (Father), pleaded guilty to unlawful sexual intercourse and murder; sentenced to 19 years to life.
Source:
Brother speaks out about Dad who murdered and impregnated his sister
Life for man who killed daughter
Father crashed car to kill daughter
Carry Ann's father jailed for 19 years
Foster home was in 'her best interests'
'Dad murdered my sister – but Jeremy Kyle Show made me feel like the criminal'