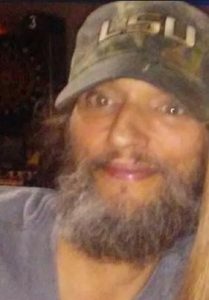 Name: Keith Theriot.
Died: January 26, 2019.
Age at death: 50.
Cause of death: Gunshot.
Location: Ascension Parish, Louisiana, USA.
Disability: Unspecified; disabled veteran.
Details:
Keith had kicked his son out of his trailer, so the son went to live with his girlfriend. Two weeks later, he allegedly killed his girlfriend, her father, and her younger brother before driving to his parents' house and shooting Keith and his wife Elizabeth. Keith survived long enough to tell police that it was his son who had shot him.
Keith played the guitar.
Case status:
Dakota Theriot (Son), charged with murder.
Source:
Dakota Theriot, accused of killing five, faces the death penalty. Coronavirus may delay his trial
Louisiana murder suspect caught at grandma's Virginia home
'My babies died for nothing': Louisiana shooting that killed 5 leaves family broken