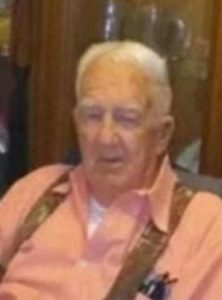 Name: Ernest Starry.
Died: July 28, 2018.
Age at death: 85.
Cause of death: Gunshot.
Location: Robstown, Texas, USA.
Disability: Unspecified; elder nursing home resident.
Other victims: Roel Mireles (41), Thelma Montalvo (60), and Isaiah Starry (13).
Details:
Ernest Starry was the oldest of four people killed by his son in a shooting spree that took the lives of his wife Thelma, his stepson Roel, and his grandson Isaiah. After fatally shooting Ernest and his wife, who was visiting him at his nursing home, the killer committed suicide. His motive is still unknown.
Ernest owned a pawn shop.
Case status:
Richard Starry (Son), deceased.
Source:
5 members of same family dead in Texas shootings at home, nursing home in murder-suicide, police say
Teen Boy Among 5 Relatives Killed in Apparent Murder-Suicide That Ended in Nursing Home
Texas Nursing Home Shooting That Left 5 Dead Was Likely Murder-Suicide, Police Say
Family, friends, Scouts, police pay respects to Robstown shooting victims