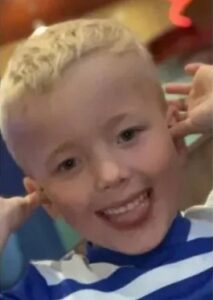 Name: Arthur Labinjo-Hughes.
Died: June 16, 2020.
Age at death: 6.
Cause of death: Traumatic brain injury.
Location: Solihull, West Midlands, England, UK.
Disability: Father told neighbors he was autistic or had ADHD.
Details:
Arthur died of a brain injury received while he was at home with his stepmother. His father and stepmother were arrested and charged with murder. Prosecutors say that Arthur was subjected to constant abuse; he was being denied food, made to sleep on the floor, exiled to the apartment hallway, and beaten. Two weeks before his death, a neighbor reports, Arthur's father came to them and said that if the neighbors heard Arthur saying, "Please don't kill me," they should ignore him because Arthur "[had] issues; he suffers from ADHD or autism."
Case Status:
Emma Tustin (Stepmother), convicted of murder, sentenced to 26 years to life in prison.
Thomas Hughes (Father), convicted of manslaughter, sentenced to 21 years.
Sources:
Murder of Arthur Labinjo-Hughes
Autism Memorial: Arthur Labinjo-Hughes
Dad accused of killing son told neighbour to ignore 'please don't kill me' cries
Boy, 6, 'murdered' by parents cried 'no one loves me' as he begged for mercy
Family sent photos of Arthur Labinjo-Hughes' injuries to police, court told
What happened to Arthur Labinjo-Hughes?
Sentencing Remarks