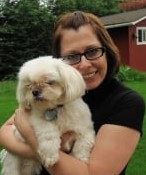 Name: Heidi Anne "Annie" Winchester.
Died: January 30, 2019.
Age at death: 50.
Cause of death: Sharp-force trauma.
Location: Lake Oswego, Oregon, USA.
Disability: Terminal cancer.
Details:
Annie's husband killed her with a box cutter.
During her fight with rectal cancer, Annie formed a group called Annie's Cancer Club, where she and other people with cancer could support each other.
Case status:
Michael Winchester (Husband), found guilty of manslaughter except for insanity.
Source:
Lake Oswego husband who killed ill wife spared prison
Criminal trial postponed for Lake Oswego murder suspect
Police: Lake Oswego man admits to killing wife, who had terminal cancer
Lake Oswego Police Say How They Think Heidi Winchester Was Killed
Husband confesses to killing wife in Lake Oswego
Friends say woman killed in Lake Oswego was battling cancer; husband charged with murder