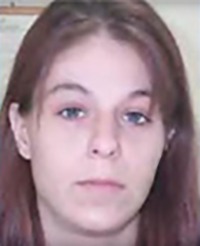 Name: Cora Okonski.
Died: April 16, 2000 (Last seen); body never found.
Age at death: 23.
Cause of death: Homicide, unknown type.
Location: Tama, Iowa, USA.
Disability: Bipolar disorder, ADHD.
Details:
After telling her friend that she was afraid that her fiance was going to kill her, Cora Okonski disappeared, leaving behind her two-year-old son. Seventeen years later, with Cora still missing, her fiance was charged with her murder. Her son was adopted by family.
Cora's murder trial is proceeding even though her body was never found, but there is good evidence that she is dead. After she disappeared, her family didn't hear from her, and her disability payments went uncollected. The case broke when Cora's fiance, in prison for unrelated charges, bragged to another prisoner that he had "choke-slammed" Cora and buried her body.
Perpetrator: Tait Purk (Fiance), convicted of second-degree murder, sentenced to 35-50 years in prison.
Source:
Murder trial for Iowa woman whose body was never found begins Monday
Prosecution witnesses testify in Purk murder trial
Cora Okonski feared for her life, friend testifies at Tait Purk murder trial
Cara Okonski feared for her life, friend testifies in murder trial
UPDATE: Purk case goes to the jury
Iowa mom's 2000 disappearance now investigated as murder
Tait Purk found guilty of fiancee's murder
Tait Purk guilty of killing fiancée in rare murder trial with no body