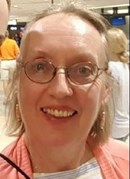 Name: Marcia Neigebauer.
Died: November 19, 2017.
Age at death: 63.
Cause of death: Strangled.
Location: Pittsfield Township, Michigan, USA.
Disability: ALS.
Details:
Marcia's husband strangled her with her own breathing tube.
She was a retired banker who opened a bed-and-breakfast, volunteered as a girl scout leader and youth leader, and enjoyed sewing and crafts.
Case status:
Kent Neigebauer (Husband), pleaded guilty to second-degree murder, sentenced to 12-18 years in prison.
Source:
Ex-cop sentenced after pleading guilty to wife's murder
Retired police officer accused of killing wife found incompetent for trial
Husband of murdered former Delano Inn owner not competent yet for trial
Marcia Neigebauer Obituary – Ann Arbor, MI