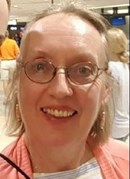 Name: Marcia Neigebauer.
Died: November 19, 2017.
Age at death: 63.
Cause of death: Murder.
Location: Pittsfield Township, Michigan, USA.
Disability: ALS.
Details:
Marcia's husband strangled her with her own breathing tube.
She was a retired banker who opened a bed-and-breakfast, volunteered as a girl scout leader and youth leader, and enjoyed sewing and crafts.
Perpetrator: Kent Neigebauer (Husband), charged with open murder.
Source:
Retired police officer accused of killing wife found incompetent for trial
Husband of murdered former Delano Inn owner not competent yet for trial
Marcia Neigebauer Obituary – Ann Arbor, MI