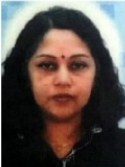 Name: Jeya Pichamuthu.
Died: October 6, 2017.
Age at death: 46.
Cause of death: Multiple murder-suicide.
Location: Mutiara Rini, Malaysia.
Disability: Kidney disease.
Details:
Jeya's husband strangled her and her two children because he could not pay for treatment for her kidney disease.
Jeya had a son, Sharveen Pubalan, age 14, and a daughter, Krishaa Priteena, age 9. They were also strangled by her husband, who then hung himself.
Perpetrator: Publan Retnam (Husband).
Source:
Johor Baru murder-suicide: My brother was a loving husband and caring father, says brother
FAMILY OF FOUR FOUND DEAD IN JB MURDER-SUICIDE SHOCKER: MAN KILLS SON, 14, DAUGHTER, 9, AFTER WIFE DIES BEFORE HANGING HIMSELF
Death of four in a family is murder-suicide; case closed – police