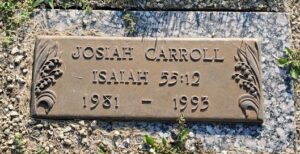 Name: Josiah Carroll.
Died: June 14, 1993.
Age at death: 12.
Cause of death: Smothered.
Location: Cedarville, Ohio, USA.
Disability: Cerebral palsy.
Details:
Josiah was allegedly smothered by his older brother. The death was witnessed by Josiah's brother Isaiah, but his testimony was not considered because he is non-verbal and communicates by pointing.
Case status:
Kathleen Carroll (Mother), not charged.
Timothy Carroll (Father), not charged.
James Carroll (Brother), charged with delinquency by reason of involuntary manslaughter, acquitted.
Source:
Hannah, Noah, Molly and Joshua Carroll
Boy Saw Slaying, He Tells