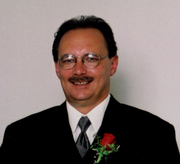 Name: Ronald McCabe.
Died: March 7, 2016.
Age at death: 56.
Cause of death: Murder.
Location: Kitchener, Ontario, Canada.
Disability: Paralysis resulting from severe head injury.
Details:
Ronald was shot by his son, who came to his care home and killed him there.
Before his disability he had worked as a manager at Home Hardware.
Perpetrator: Adam McCabe (Son), charged with second-degree murder; pleaded guilty to manslaughter, sentenced to two years in an alcohol rehab center.
Source:
Ronald McCabe Obituary
Man found dead in long-term care home; 32-year-old charged with murder
Man killed at Kitchener long-term care home
Man, 32, charged with 2nd-degree murder in death at Kitchener care home
Murder charges pending over death at Kitchener care home
Man who killed dad in Kitchener nursing home says he wanted to 'end his suffering'
Son sentenced to treatment centre after killing his father