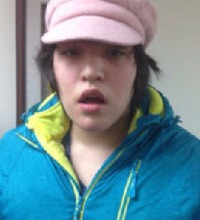 Name: Lydia Whitford.
Died: July 14, 2016.
Age at death: 18.
Cause of death: Possible homicide; possible natural death after abuse.
Location: Stonewall, Manitoba, Canada.
Disability: Autism, epilepsy.
Details:
Lydia's death was originally ruled natural, but her mother and sister saw bruises on her body and pushed for an investigation. More than a year later later, Lydia's foster mother was charged with manslaughter. Exactly how Lydia died has not been released.
Her sister told reporters that "I want people to remember her as the kind and loving person she was."
Case status:
Lisa Marie Campbell (Foster mother), charged with manslaughter, charges stayed.
Source:
Autism Memorial: Lydia Whitford
Vigil marks birthday of woman with autism who died in CFS care
Family wants answers in homicide of teen living in licensed foster home
Family of woman with autism found dead in foster home seeks answers
Family plans birthday vigil for Manitoba teen with autism killed in foster care
Family seeks answers after teen's death in foster care deemed a homicide
Homicide victim's family asks how woman with autism died in CFS care
Killing of teen with autism in foster care to be investigated by Manitoba's children's advocate
Foster mother charged in death of autistic woman, 18
Woman charged with manslaughter in death of disabled woman
Winnipeg woman charged in death of teen with autism
Foster mom charged in 2016 homicide of teen with autism, family says
Winnipeg woman arrested following homicide in July 2016: RCMP
Family of teen with autism looking for closure after Crown stays manslaughter charge against foster mother