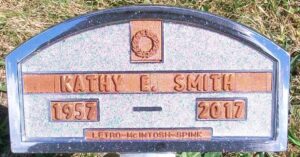 Name: Kathy Smith.
Died: May 13, 2017.
Age at death: 59.
Cause of death: Stabbed.
Location: Olean, New York, USA.
Disability: Arthritis, emphysema.
Details:
Kathy's husband stabbed her to death.
Case status:
Edward J. Smith Jr. (Husband), charged with second-degree murder, declared not guilty by reason of insanity, committed indefinitely to a state psychiatric institution.
Source:
Smith not guilty of murdering wife by reason of insanity
Edward Smith's daughter says mental illness led to murder
911 call played at Olean man's hearing: 'I murdered my wife'
Man charged with murdering wife in Olean House released from hospital, held without bail
Olean man accused of stabbing wife to death indicted on multiple counts
Olean man accused of murdering his wife
Police – Husband in Olean calls 911 after murdering his wife
Kathy Smith Obituary
Olean Man Accused of Murdering Wife Appears in City Court