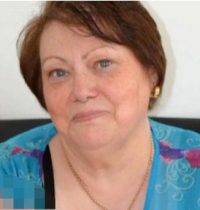 Name: Leah Cohen.
Died: August 11, 2017.
Age at death: 66.
Cause of death: Stabbed.
Location: London, England, UK.
Disability: Unspecified physical and mental disability; walked with a cane.
Details:
Leah Cohen and her daughter Hannah were stabbed to death by her son. Apparently, he was upset that he had been left out of his father's will.
Leah and her family own Beigel Bake, their family business, a London bakery famous for its salt-beef bagels. Hannah and her sister ran a cake shop, which closed when Hannah was killed; Leah's other two sons now run the bagel shop.
Case status:
Joshua Cohen (Son), pleaded guilty to manslaughter by diminished responsibility.
Source:
Joshua Cohen, who killed his mother and sister, admits manslaughter
Brick Lane bagel tycoon's son 'murdered mother and sister at home'
Man charged in North London bagel dynasty murders
Golders Green murder – son, 27, charged with murder after his bagel millionaire mum and sister are stabbed to death' in their North London home
Heir to famous London bagel shop 'arrested over knife murder of mother and sister'
Bagel murder suspect had been cut out of family fortune weeks before killings, documents show
Tributes paid to mother and daughter 'stabbed by schizophrenic son'
Son arrested after allegedly stabbing mum, 66, and daughter, 33, to death in North London