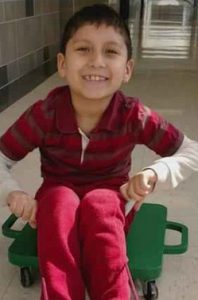 Name: Abraham E. "Abe" Cardenas.
Died: April 5, 2018.
Age at death: 7.
Cause of death: Stabbed.
Location: Sweden, New York, USA.
Disability: Learning disability.
Details:
Abraham was stabbed and decapitated by his mother.
He was a first-grader whose teachers remember his enthusiasm for school. He especially loved drawing.
Case status:
Hanane Mouhib (Mother), charged with murder, found not responsible by reason of mental disease or defect; in state custody.
Source:
Friends and loved ones of murdered Sweden boy speaking up
Hanane Mouhib indicted in brutal killing of 7-year-old son in Brockport
Sweden mom charged in brutal slaying of her 7-year-old son
N.Y. mom arrested for decapitating 7-year-old son with knife
Abraham E. "Abe" Cardenas (2011-2018)