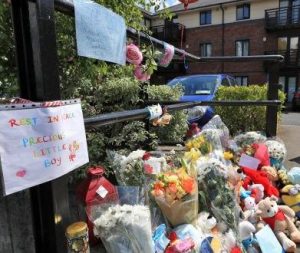 Name: Omar Omran.
Died: July 10, 2017.
Age at death: 3.
Cause of death: Stabbed.
Location: Kimmage, Dublin, Ireland.
Disability: Autism.
Details:
Omar was stabbed to death by his mother.
Neighbors left flowers, notes, and toys outside his apartment building. One neighbor remembered that Omar used to throw his toys over his balcony, and his neighbor used to bring them back to him.
Case status:
Maha Al Adheem (Mother), charged with murder; found not guilty by reason of insanity, committed to mental hospital.
Source:
Mother of boy stabbed to death in Dublin is Iraqi doctor
Doctor arrested after son, 3, is found stabbed to death
Boy (3) killed in Kimmage 'not a stranger to anyone', says father
Mum accused of killing autistic son told police 'it was my knife'
Doctor is held over fatal stabbing of autistic son, 3
Doctor 'arrested after her autistic toddler is stabbed to death in their flat'
Mum arrested over toddler son found dead with stab wounds in apartment
Detectives investigating fatal stabbing of toddler (3) arrest woman
Stab victim Omar (3) laid to rest after 'final kiss' from father
Heartbroken father of stabbed Irish tot kisses him goodbye as he is laid to rest
Tearful Father Of Omar Omran Lays Stabbed Son To Rest
Doctor accused of murdering son was 'amazing' mother, neighbour tells court
Doctor who stabbed her son (3) to death in their south Dublin home found not guilty of his murder
Doctor found not guilty of murdering son (3) by reason of insanity