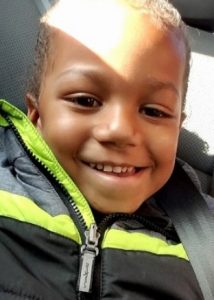 Name: Antonio Di Stasio.
Died: September 28, 2017.
Age at death: 4.
Cause of death: Murder.
Location: Milwaukee, Wisconsin, USA.
Disability: Autism.
Details:
Neighbors remember Antonio as a little boy who made a racket when he jumped up and down. He had a pet guinea pig.
One day the neighbors heard the little boy saying, "'Please mommy. OK, mommy. I ain't going to do it no more.'" Antonio's mother tied him up with belts, put him in the bathtub, doused him in cooking oil, and set him on fire. The fire endangered the other residents of his apartment complex. Antonio's pet guinea pig was found dead nearby.
Case status:
Amelia Di Stasio (Mother), charged with first-degree intentional homicide, found mentally unfit for trial, committed for life.
Source:
Woman charged with killing 4-year-old son to spend life in mental institution
Autism Memorial: Antonio Di Stasio
"I've been crying all night:" Family and neighbors mourn death of 4-year-old found dead in home
For funeral expenses and the burial organized by Ralph Di Stasio
Police ID child found dead, partially burned in home on Milwaukee's south side
Milwaukee police identify boy, 4, found partially burned in homicide case
Source: Mom arrested after 4-year-old son found dead, partially burned
Mother faces life in prison after 4-year-old with autism bound with 7 belts, set on fire in bathtub
Wisconsin Mom Amelia Di Stasio Faces Life In Prison For Allegedly Lighting 4-Year-Old Autistic Son On Fire
Mom charged in son's arson death ordered to mental treatment