Name: Florence Girard.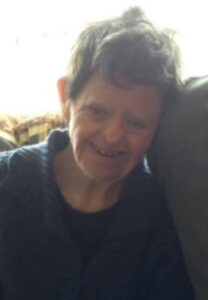 Died: October 13, 2018.
Age at death: 54.
Cause of death: Malnutrition.
Location: Vancouver, British Columbia, Canada.
Disability: Down syndrome.
Details:
In the care of a woman who neglected her, Florence grew steadily thinner until she finally starved to death, weighing only 56 pounds.
Florence was silly, boy-crazy, and liked having her picture taken. She competed in the 1993 Special Olympics. She was one of 14 siblings.
Case status:
Astrid Charlotte Dahl (Paid caregiver with Kinsight), convicted of failing to provide the necessaries of life, sentenced to 100 hours of community service and 12 months of probation.
Source:
Caregiver convicted in starving death of woman with Down syndrome avoids jail
Trial underway for B.C. caregiver charged with criminal negligence in woman's death
Charge stayed against Coquitlam non-profit in starving death of disabled woman
UPDATE: Coquitlam non-profit, caregiver charged in starvation death of disabled woman
Charges laid after woman with disability found dead in B.C. caregiver's home
Criminal neglect alleged after B.C. woman with developmental disability dies in care
Three charges, including criminal negligence causing death, laid in 2018 alleged starvation of Florence Girard
'Unforgiveable': Caregiver charged with criminal negligence, accused of starving woman to death
B.C. caregiver charged with criminal negligence has history of financial troubles