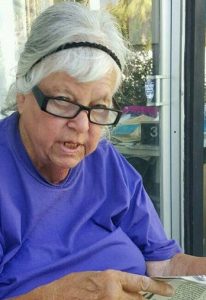 Name: Lerae Britain Moeller Bush.
Died: February 10, 2018.
Age at death: 85.
Cause of death: Fire.
Location: Bloomington, California, USA.
Disability: Alzheimer's disease.
Details:
Lerae died in a fire while living with a man who had been caring for her and telling others that he was her son. He started out doing housework for her, then moved on to managing her finances. Allegedly, he eventually kept her locked in a one-room garage without utilities. He tried, but failed, to inherit her estate. Police say Lerae's caregiver started the fire in which she died.
Lerae was "aristocratic and eccentric", a retired educator who loved the arts.
Case status:
Noel Montes Cazares, a.k.a. Giovanni Bush, charged with arson, murder, neglect of a dependent and obstruction of justice.
Misty Allen, charged with assisting a criminal and obstruction of justice.
Source:
Man accused of arson, murder out of jail on house arrest
Bloomington police arrest girlfriend of man accused of burning down woman's home in plot to inherit estate
Bloomington man arrested in California charged with arson, murder
Man charged with murder, arson, neglect in Handy Road fire
Man arrested in California on murder charges in Handy Road fire
Suspect in Monroe County arson, murder claimed to be victim's son
Police: Man charged with murder used fake name to pose as woman's son, lit her home on fire