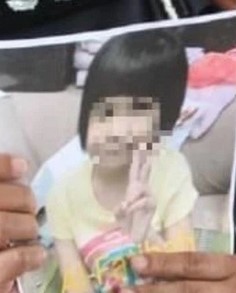 Name Unknown.
Died: December 30, 2020.
Age at death: 5.
Cause of death: Abuse.
Location: Kampung Sungai Cincin, Gombek, Malaysia.
Disability: Hydrocephalus, mobility impaired.
Details:
This five-year-old girl's grandaunt killed her by kicking her in the stomach repeatedly. This caused an intestinal rupture, which, untreated, proved fatal.
Perpetrator: Her grandaunt (Arrested).
Source:
Father, grandaunt among 6 nabbed over death of 5-year old disabled girl
Abuse suspected in disabled child's death
5yo Disabled Child Dies From Ruptured Intestines After Alleged Abuse By Grandmother
Kanak-kanak 5 tahun pecah usus disepak nenek saudara [METROTV]
Police arrest six over suspected abuse, death of five-year-old disabled girl | The Star