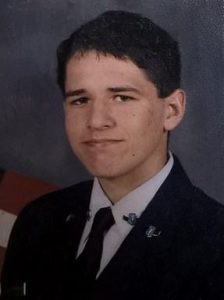 Name: Austin Steele.
Died: March 1, 2018.
Age at death: 18.
Cause of death: Murder.
Location: Lancaster, South Carolina, USA.
Disability: Autism.
Details:
After his grandfather died, Austin moved in with a caretaker. At 18, he moved out, though he would often call his caretaker–sometimes in the middle of the night–to ask for a hug.
Austin was an independent young man. He would take weeks-long trips to the beach on his moped. He was enrolled in GED classes, and he wanted to join the military and become an engineer.
Two months after he allowed a man and his wife to move into his mobile home with him, his body was found. Austin may have been killed because he had become involved romantically with one or both of the couple; or the 30-year-old man, who was a registered sex offender, may have been abusing him.
The man had shot him, left him to die overnight, and with the help of his wife, dismembered, burned, and dumped his body.
Perpetrator: Christopher Allen Holford (Housemate), charged with murder; Brandy Nicole Faye Duncan (Housemate), charged with accessory after the fact to murder.
Source:
Autistic SC teen who was burned, dismembered 'knew he was loved'
LANCASTER HOMICIDE: Family seeks justice for teen's death in Lancaster County
Lancaster autistic teen, killed in 'haunting' case, remembered as 'kind, caring'
'One of the worst cases': Body of Lancaster man, 18, burned and dismembered; 2 charged
New details in Austin Steele murder
SC newlyweds charged in connection with murder, dismembering teen's body
Human remains found as Lancaster Co. deputies investigate homicide
Couple Charged After An 18-Year-Old's Dismembered Remains Were Found On Lancaster Property