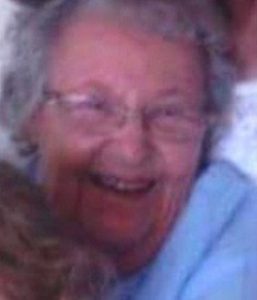 Name: Betty Guy.
Died: November 7, 2011.
Age at death: 84.
Cause of death: Murder.
Location: Haverfordwet, England, UK.
Disability: Mobility impaired, chronic pain, frail elder.
Details:
Betty's daughter and grandson had decided it was "time for her to go", so they drove to her house, where they drugged her with sleeping pills; then her grandson smothered her with a pillow. He had to try twice before he killed her, because she fought to live.
Betty was a retired nurse.
Perpetrator: Barry Rogers (Grandson) and Penelope John (Daughter), both found guilty of murder and sentenced to 11 years to life.
Source:
Ex-soldier could not have murdered grandmother as Iraq left him so 'messed up' he would not kill again, court hears
Man lied about killing 'for attention'
Murder accused 'talked about euthanasia'
Ex-Soldier Accused Of Murdering Grandmother "Messed Up By Iraq"
Murder accused 'told ex-wife he had killed his grandmother'
Accused 'had to smother gran twice'
'Murder victim Betty Guy fought off grandson as he smothered her with pillow', jury told
'Man said he would finish off ill gran'
Betty Guy trial: Grandson threatened to kill girlfriend while she slept
Pensioner 'smothered' by grandson
Man smothered his grandmother twice before she died, court told
Mother and son to go on trial accused of murdering grandmother
Mother and son's murder trial to start today
Mother and son's murder trial begins