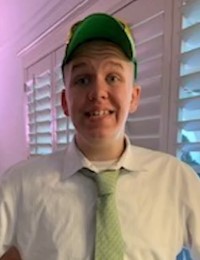 Name: Brian Cotter.
Died: "A few days after" May 17, 2021.
Age at death: 15.
Cause of death: Gunshot.
Location: Fresno, California, USA.
Disability: Autism.
Details:
Brian's brother called 911 to report that Brian had shot his father and then himself. First responders arrived to find Brian's father, Patrick, dead and Brian severely injured. Brian would die at the hospital several days later. However, police investigated Brian's brother's story, found that it did not match the evidence, and arrested him for the double murder. At trial, the prosecution would prove that Brian's brother had set up the killings to look like a murder-suicide in order to pin the blame on his autistic brother.
Brian and his father used to go on walks, and Brian would carry a walkie-talkie to keep in touch with his neighbor. A natural with computers, he created his own cartoon character and made his own films.
Case Status:
Robert Cotter (Brother), convicted of murder, sentenced to life without parole.
Source:
Teen Who Killed Father & Tried to Pin Murder on Autistic Brother is Going to Prison: Reports
Teenager who killed his father and brother in Fresno last year on his way to prison
Teen accused of killing father, brother faces possible death penalty with family support
Detectives say murder-suicide in Fresno was really a double homicide
Victims' family member arrested in Fresno mobile home park shooting that left 15-year-old autistic son and father dead
"It's going to be a loss to us": Neighbors react to alleged mobile home park murder
Autism Memorial: Brian Cotter