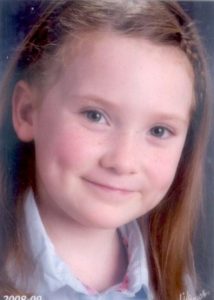 Name: Camden Alexis Fry.
Died: August 9, 2009.
Age at death: 8.
Cause of death: Abuse.
Location: North Kingstown, Rhode Island, USA.
Disability: ADHD, anxiety.
Details:
Camden liked animals, nature, and art. She enjoyed swimming, hockey, and playing with her friends. She took art and cooking classes and liked to arrange her stuffed animals every night before bed.
When Camden struggled because she didn't want a bath, her mother restrained her and eventually strangled her with pressure on her chest and hands on her neck and mouth.
Perpetrator: Kimberly Fry (Mother), convicted of second-degree murder, sentenced to 20 years in prison.
Source:
Mother asks court to throw out her conviction for killing daughter
Mom who killed child argues cops have done same to suspects
Rhode Island mother to serve 20 years in death of daughter, 8 – The Boston Globe
Camden Fry Obituary
Local child's death stuns community
Therapist: Kimberly Fry Blamed Daughter For Depression; Felt Hopeless
UPDATE: Key Information Disclosed Two Years After Girl's Death