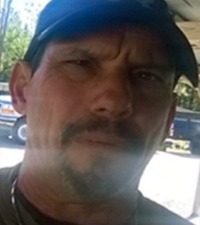 Name: Charles William "Butch" Singer.
Died: April 7, 2017 (Body found); missing since February 8, 2017.
Age at death: 48.
Cause of death: Murder.
Location: Bunnell, Florida, USA.
Disability: Legally blind.
Details:
When Charles's sister began receiving text messages from him that included misspelled words, she became suspicious: Charles, who was blind, normally used speech-recognition to send text messages.
When his body was found, it became clear that Charles had been shot to death by his wife. She had sent the text messages to make it seem like he was still alive.
Perpetrator: Dorothy Singer (Wife), convicted of first-degree murder, sentenced to life without parole; new trial ordered on appeal.
Source:
Retrial date set for Bunnell woman accused of murdering husband
New trial ordered for Flagler woman convicted of killing husband, hiding body
Missing Bunnell man found shot to death
Charles Singer, previously reported missing, was shot to death
Wife arrested in death of disabled, blind Flagler County man, deputies say
Florida woman accused of murdering husband in 'Dateline'-type case
JUST IN: Florida woman arrested in death of blind husband
Wife arrested in death of blind Flagler County man, deputies say
Wife arrested in murder of Charles William Singer
Bunnell woman charged with husband's death months after his disappearance
Wife Arrested on 1st Degree Murder Charge In West-Flagler Killing of Charles Singer
Woman, 52, 'killed her blind husband' and planned to fake own death
Woman Killed Husband, Used Moth Balls to Mask Odor: Police
Sheriff: Wife killed man, covered up death
Bunnell woman found guilty of murdering husband
Dorothy Singer convicted of first-degree murder in February 2017 killing of her husband, Charles Singer