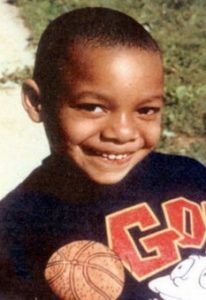 Name: Christian Ferguson.
Died: June 11, 2003.
Age at death: 9.
Cause of death: Missing, presumed dead.
Location: St. Louis, Missouri, USA.
Disability: Unnamed rare disorder caused by "inability to process protein".
Details:
In 2003, Christian's father reported that his car had been stolen with Christian inside. Christian, who was unable to survive without his medication, was declared dead, though his body was never found. Sixteen years later, new information came to light and his father was arrested for murder. How Christian died is unknown, but in the two years leading up to his death, he was allegedly neglected by his father, who did not provide him with proper medication or food. It is known that Christian would not have survived 72 hours without his medication.
Case status:
Dawan Ferguson (Father), charged with first-degree murder.
Source:
Christian Ferguson case: Father's murder charge dismissed but later refiled
Child abuse charge added against St. Louis County man accused of killing disabled son
St. Louis County prosecutor drops then refiles murder charge in death of 9-year-old boy
Bench trial granted for St. Louis County man accused of killing disabled son
Murder trial set for St. Louis County man accused of killing disabled son
Father accused of killing 9-year-old son backs down from speedy trial request
Father charged with son's murder now facing child sex crime charges
St. Louis County man accused of killing disabled son in 2003 stays in jail; prosecutors plan more charges
Birthday memorial for missing, murdered Christian Ferguson
Disabled boy went missing 16 years ago, now father is charged with his murder
Missouri father charged with murder 16 years after disabled 9-year-old son disappeared
Disabled boy went missing 16 years ago, now father is charged with his murder
'Justice for Christian': 16 years later, police charge father for the murder of disabled little boy [Reports]
Man Charged With Son's Death From 2003
Missouri father charged with murder of disabled boy who went missing 16 years ago