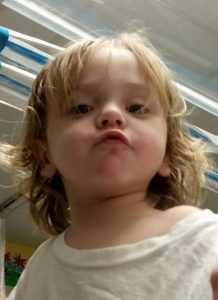 Name: Colton Johnson.
Died: June 17, 2017.
Age at death: 2.
Cause of death: Medical neglect.
Location: Cincinnati, Ohio, USA.
Disability: Short bowel syndrome.
Details:
Colton's mother took him to the emergency room because his feeding tube had come out; when doctors there examined him, they realized that the feeding tube was leaking, and Colton had a blood infection and was in critical condition. They immediately decided to admit him into the ICU.
But Colton's mother, instead of allowing the doctors to treat her son, despite being warned that he could die, took him home from the hospital against medical advice. Early the next morning, Colton's heart stopped and he could not be revived.
Perpetrator: Robyn Johnson (Mother), pleaded guilty to neglect of a dependent resulting in death, sentenced to 25 years in prison.
Source:
Mother Who Refused Medical Care for Son Sentenced in His Death
Woman charged with neglect in child's death here