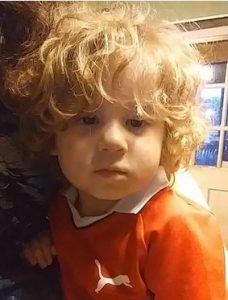 Name: Dante Mullinix.
Died: September 15, 2018.
Age at death: 2.
Cause of death: Abuse.
Location: Hershey, Pennsylvania, USA.
Disability: Developmental disability, nonverbal, autism.
Details:
Dante was a happy baby. He had a developmental delay; he hadn't yet learned to walk, and had difficulty chewing and swallowing. He could say a few words, like "ew" and "yeah". He was being evaluated for autism.
His aunt called him "Monkey Man" because he had a favorite blanket with a monkey on it which he carried everywhere. Before he went to sleep, he rubbed his face against his blanket.
Dante's mother left him with her boyfriend, who was arrested and charged with murder. Dante was brought to the hospital, unresponsive, with bruises, a compressed neck, and a brain injury, and died a few days later.
Source:
'This poor kid was doomed from the beginning:' The tragic life and death of Dante Mullinix