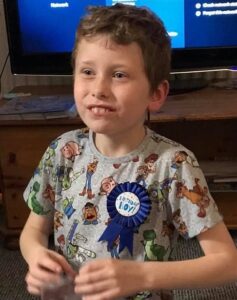 Name: Darren Henson.
Died: May 31, 2021.
Age at death: 9.
Cause of death: Stabbed.
Location: Louth, England, UK.
Disability: Autism.
Details:
Darren's stepfather stabbed him and his mother to death. He had grown to hate Darren and wanted to wipe out his mother's bloodline.
Darren loved football (soccer), especially Chelsea football. He was "a happy child with a kind heart."
Case Status:
Daniel Boulton (Stepfather), convicted of two counts of murder, sentenced to 40 years to life.
Source:
Evil Daniel Boulton's twisted hatred for autistic boy he killed
Manhunt killer handed minimum of 40 years for murdering woman and autistic son
Child safeguarding and domestic homicide review set after double Louth murders
Man who stabbed mother, 26, and her autistic son, nine, to death is convicted | Daily Mail Online
Autism Memorial: Darren Henson
Ex-partner brutally stabbed mother and autistic son in front of baby, court told
Violent ex 'brutally stabbed mum and autistic son to death before 24-hour manhunt' – Plainsmen Post
Coventry gran's tribute to boy, 9, after alleged double murder
Suspect, 29, 'knifed to death ex-partner and her autistic son, nine'